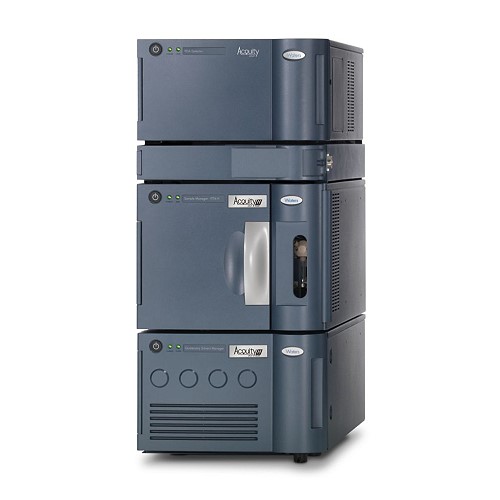 The Waters® ACQUIT Y UPLC® H-Class System delivers the flexibility of quaternary solvent blending with the advanced performance
of UPLC® separations. The system's holistic design is targeted for routine analysis and method development use and is perfectly
suited for running both HPLC and UPLC applications while still realizing the improved resolution and sensitivity of UPLC separations.
The system is comprised of a Quaternary Solvent Manager (QSM), a Sample Manager with Flow-Through Needle (SM-FTN) design,
and offers a choice of column compartment products.
SPECIFICATION
ACQUITY UPLC H-Class System Instrument Specifications
Flow precision 0.075% RSD or ±0.020 min SD, whichever is greater, based on six replicates (with i2 Valve) 60:40 H2O/MeOH via Auto•Blend Plus Technology, 0.5 mL/min, alkylphenone mix (5.0 μL injection volume), ACQUIT Y UPLC BEH C18, 1.7 μm, 2.1 x 50 mm, 35 °C ± 0.3 °C, UV @ 254 nm
Composition ripple (baseline noise) <1.0 mAu (<0.1 mAU with optional 250.0 μL mixer) (with i2 Valve)
A: H2O + 0.1% TFA, B: ACN + 0.1% TFA, 0.5 mL/min, ACQUIT Y UPLC BEH C18, 1.7 μm, 2.1 x 50 mm UV @ 214 nm, 10 mm analytical flow cell
Composition accuracy ±0.5% absolute (full scale) from 5% to 90% from 0.5 to 2.0 mL/min (with i2 Valve)
Degassed ACN/H2O (90:10), ACN/H2O (90:10) with caffeine at 12 mg/L concentration, back pressure 2000 psi, step gradient method, UV at 273 nm
Composition precision <0.15% RSD or ±0.04 min SD, whichever is greater, based on six replicate injections (with i2 Valve)
60:40 H2O/MeOH via Auto•Blend Plus Technology, 0.5 mL/min, alkylphenone mix (5.0 μL injection volume), ACQUIT Y UPLC BEH C18, 1.7 μm, 2.1 x 50 mm, 35 °C ± 0.3 °C, UV @ 254 nm
Compressibility compensation Automatic and continuous
Priming Wet priming can run at flow rates up to 4 mL/min
Pump seal wash Equipped with an automated wash system to flush the rear of the high pressure seal and the plunger
Flow ramping Range: 0.01 to 30.00 min to reach 2.0 mL/min
Default: 0.45 min to reach 2.0 mL/min