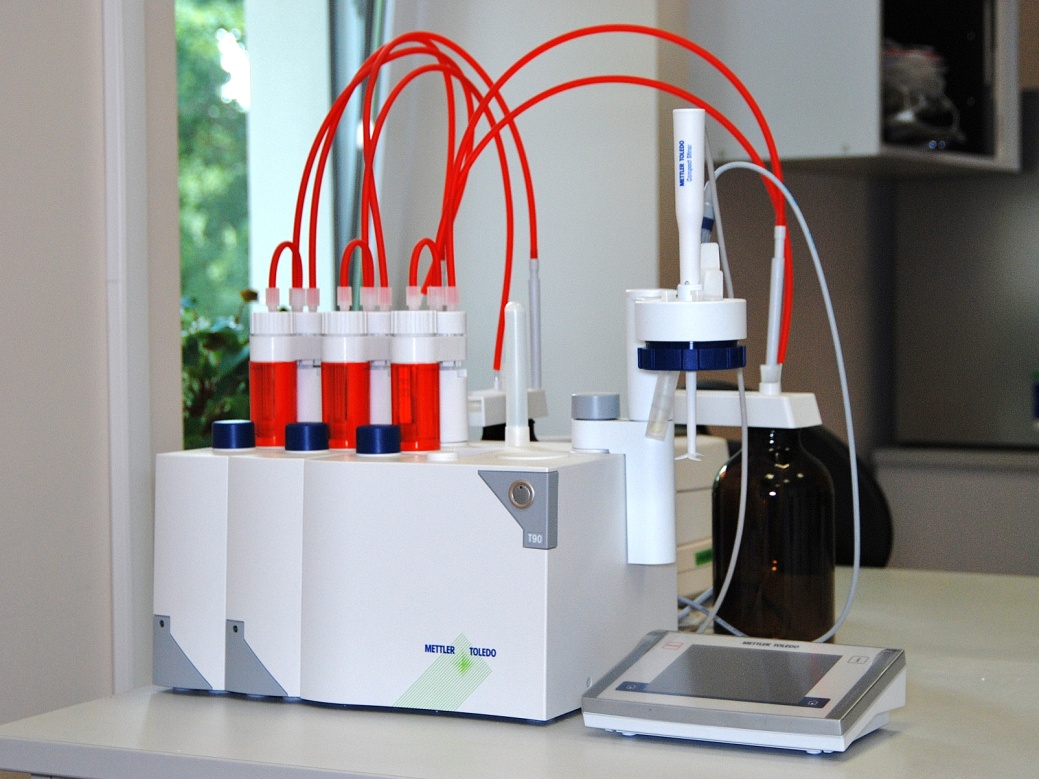 Automated titration instrument that solves complex tasks easily and efficiently. Besides the many advantages of the Titration Excellence line such as One Click® Titration, Plug & Play, method database, T90 offers a number of other important feature.
SPECIFICATION
Configuration:
T90 terminal with pH board, integrated burette drive, magnetic stirrer;
2 additional burette drives;
Ca2+ ion selective electrode;
pH electrode for titration in non-aqueous media;
pH electrode for direct pH measurement and titration in aqueous media with low ion concentraton;
Combined platinum ring electrode for redox titration.
Functions:
Parallel titrations;
Automatic calculation of results;
Titration in series;
Conditions in titration method functions;
Syncronisation of parallel analyses;
Computer connectivity for easy processing of results.
Technical specification:
Potentiometric sensor inputs

Measurement range: ± 2000 mV
Resolution / Error limit: 0,1 mV / 0,2 mV

Polarized Sensor input

Measurement range Ipol/Upol: 0 … 2000 mV / 0 … 200 μA
Resolution Ipol / Upol: 0,1 mV / 0,1 μA
Error limit Ipol / Upol: 2,0 mV / 0,2 μA
Current source range Ipol / Upol: 0-24 μA AC / 0 – 2000 mV AC
Current source resolution Ipol / Upol: 0,1 μA / 0,1 mV

Temperature sensor input PT1000

Measuring range: -20 … 130 °C
Resolution / Error limit: 0,1 °C / 0,2 °C

Burette drive

Burette resolution (10 mL): 0,5 μL (1/20000 of the burette volume)
Error limit: 0,2 % of the burette volume
Resolver resolution: 0,0625 % of the burette volume
Filling time and discharge time: 20 s at 100 % filling rate