Latvian Institute of Organic Synthesis (LIOS) - the leading drug discovery centre in the Baltic countries - is offering a fixed term Postdoctoral position in the area of histology and confocal microscopy.
The position is offered within the scope of Horizon 2020 Teaming Phase 2 project BBCE.
Baltic Biomaterials Centre of Excellence (BBCE) is a joint centre for advanced biomaterials development based on the cooperation between Riga Technical University, Latvian Institute of Organic Synthesis, Rīga Stradiņš University, LLC Rīga Stradiņš University Institute of Stomatology, AO Research Institute Davos, and Friedrich-Alexander University Erlangen-Nuremberg. The strategic research direction of the BBCE is development of the patient specific personalized solutions for bone regeneration and it includes material development, pre-clinical evaluation, and clinical trials.
The successful candidate will work in the Latvian Institute of Organic Synthesis and will be a part of the pre-clinical biomaterial evaluation group and investigate the tissue response to biomaterials intended for use in bone repair, oral and maxillofacial surgery and histological investigation of biomaterials and nanoparticles in cancer research. Self-motivated scholars with experience in histology, immunohistochemistry and confocal microscopy to submit applications. Scholars with expertise in bone histology and tumour histology are especially encouraged to apply. Experience in biomaterials, small animal handling, and hard tissue embedding and sectioning is a plus. Position also includes short-(weeks) and long-term (several months) training visits to AO Research Institute Davos (Swizerland) and Friedrich-Alexander University Erlangen-Nuremberg (Germany).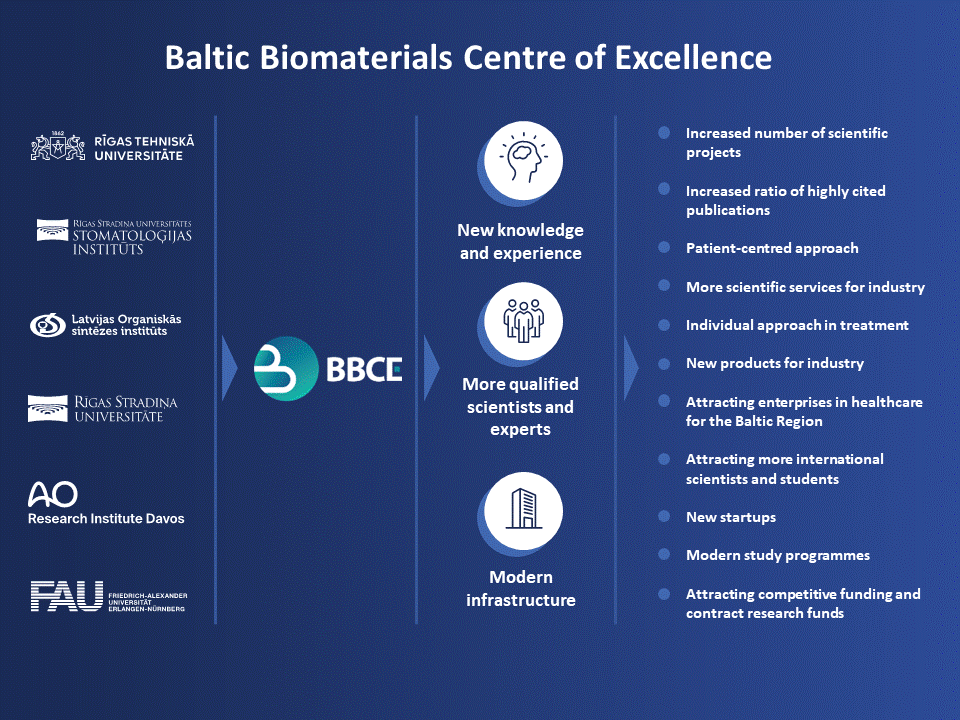 Provisional start date
February 2023
Benefits
Basic salary EUR 42 000,- p.a. before tax
Health insurance
Dedicated funding for training and short-term mobility (e.g. to BBCE advanced partners ARI in Davos, and FAU in Erlangen-Nuremberg).
Duration - 12 months with with the option for an extension
Eligibility
We are searching for the candidate with:
Application documents
Applications must be in English and include:
Motivation letter (up to 1 A4 page), particularly outlining the experience in histology and confocal microscopy, if available highlighting the experience in bone defect histology and tumor histology;
CV in English (Europass format), providing the data on work experience, education, trainings and mobility, publications, h-index, patents, projects (indicating the role of the applicant in the project), honours and awards;
Copy of PhD diploma or equivalent;
Contacts of two references that can provide a recommendation upon request.
All documents must be submitted to bbcentre@rtu.lv before November 25, 2022 5.00 PM (CET)
More information www.osi.lv/en http://www.osi.lv/en/projects/establishment-baltic-biomaterials-centre-excellence/
Recruitment process
For additional information, please contact bbce@rtu.lv and visit https://bbcentre.eu and https://www.osi.lv/en. The selection procedure will be based on two steps:
The first step will consist of the screening of all applications received and the selection of a shortlist of candidates based on CV, motivation, and relevance with the specific research project.
The second step will consist of an interview (held in person or online via Skype/ Zoom).

Prior to recruitment, the successful applicant will be requested to produce the original copies of all certificates and documents declared. Incorrect documents or lack thereof may invalidate the application.
When applying for a competition, the candidate agrees to the processing of his personal data pursuant to Regulation (EU) 2016/679 of the European Parliament and of the Council of 27 April 2016 on the protection of individuals with regard to the processing of personal data and on the free movement of such data and repealing Directive 95/95 / EC / 46 / EC (General Data Protection Regulation) and for storage at the Riga Technical University Personnel Department. Without the consent of the candidate, personal data will not be transferred to third parties, except in the cases specified in the laws and regulations in force in the Republic of Latvia.
/credits to the 1st picture http://clipart-library.com/clipart/95593.htm/